~ Our Wed. July 19, 2017 presentation ~
A Galactic Federation Introduction
"A systematic disclosure is now underway"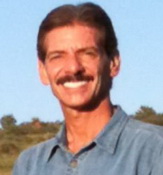 Chris, "Tolec"
Intergalactic Council Emissary
See event details below…
_____________________________
COLORADO SPECIAL "TOLEC" EVENT (Saturday following the PRF gathering)
Saturday July, 22, 2017
Evergreen, CO
Full day event, $54
Speakers & Panel Members: Tolec, Don Daniels, Sierra Neblina & Anne Salsbury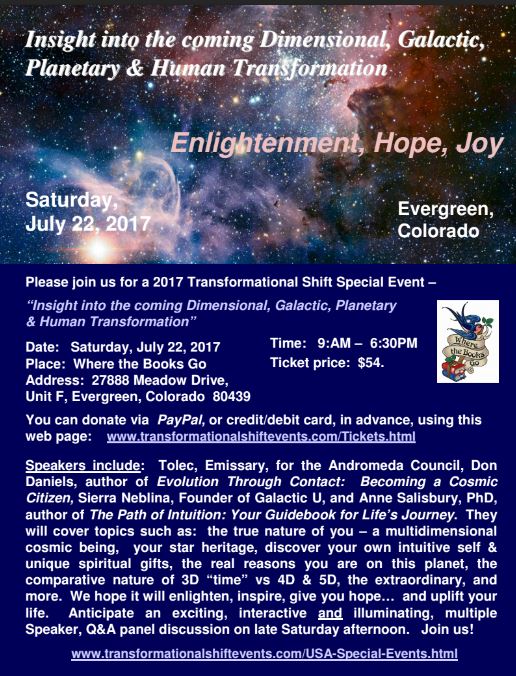 _____________________________
In recent years the extraterrestrial reality has become increasingly apparent. For those that have been following this, human perception altering, phenomenon the rate of information is now moving so rapidly it's difficult for anyone to keep up. A substantial number of individuals from around the world are, at this time, sharing their personal experiences and information from different extraterrestrial races connected to our earth based existence and our role in a much grander cosmic scheme.
This information represents advanced notice of the new world those here on earth are about to be introduced to. There is such a tremendous amount of credible evidence to support this extraterrestrial introduction it is not possible to deny after being exposed to it. The individuals involved in such matters are assembling and presenting this critical information through conferences and other gatherings around the world as well as Internet radio and television in addition to numerous documentary films. The Paranormal Research Forum is one of those venues.
Chris, "Tolec" is an Earth "Human" representative of the Andromeda Council. The Andromeda Council is an intergalactic, interstellar, interdimensional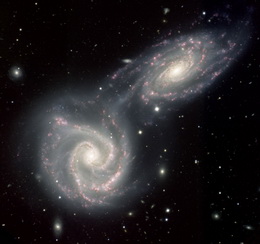 governance and development body of aligned benevolent star systems & planets of sentient, intelligent life for worlds in both the Milky Way and Andromeda galaxies.
In deep space, this governance body is known by its Ambassadors and Diplomats as the: "Galactic Council". This organization has 12 senior member star systems inclusive of their many home worlds and over 140 star systems.
For nearly two decades in his conventional life Chris held positions in the healthcare software industry working his way up to a senior management position. The twelve years following were spent in international banking in operations and as senior client liaison ultimately functioning as Chief Operating Officer.
Chris has been given the name "Tolec" as an Earth based, public-persona name by the five individuals with whom he regularly communicates. These people are stationed on the primary Andromeda Council biosphere craft.
A little background on Tolec's work should provide a historic sense of his involvement and degree of credibility in this unique arena. For more than 20 years Tolec has been close friends collaborating with a great number of well-known icons in the UFO/ET arena such as retired Command Sgt. Major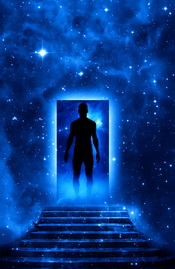 Robert "Bob" O. Dean, US Army, ("cosmic top secret" clearance), retired Lt. Colonel Wendelle Stevens, U.S Air Force (recently deceased). Tolec also counts top exopolitics researcher Michael Salla, PhD as a friend & professional colleague. He initiated and held numerous round-table discussions with many noted professionals regarding the Council's work including recently deceased astronaut, Dr. Edgar Mitchell.
Tolec has been in more than 150 radio interviews around the world over the recent years conducted in Australia, Japan, Norway, Scotland, Greece, South Africa, Netherlands, Italy, France, Ireland, Argentina and throughout the US with noted hosts such as Alfred Lambremont Webre (a futurist at the Stanford Research Institute), James Gilliland, (ECETI Ranch, Washington) and Peter Maxwell Slattery (ECETI of Australia).
Tolec's first conscious, physical and fully awake contact with the Andromeda Council was as an adult in 1993 with his principal Andromeda Council contact person, the commander of the primary Andromeda Council biosphere. At that time he was informed of his non-terrestrial soul origin and role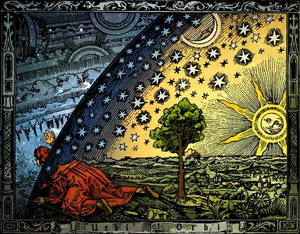 with people here on earth. He was informed their first contacts with him began at the age of five.
In late summer of 1993, this same commander took Tolec on 3 closely clustered separate time-travel trips over the course of a week and a half via an Andromeda Council scout craft. These trips went as far back in time as the 1840s to an area of rural Kentucky, or West Virginia, to observe a family of four in their day-to-day life struggles.
More recently Tolec is aware of more than 100+ physical visits he has made to the primary Andromeda Council biosphere, which continue today. These biosphere craft range in size from Pluto to Jupiter in scale occupied by beings from nine dimensions. While there, Tolec holds a position on a sub-committee of the "Joint Earth Council".
"Join us for yet another powerful journey of exploration, personal growth and discovery"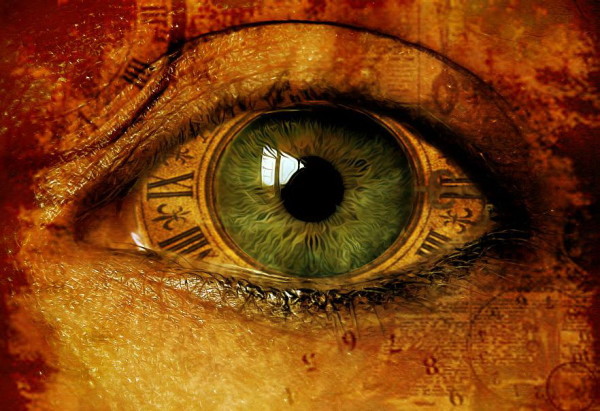 "The World's Largest Monthly Gathering on Any Paranormal Matters"
Next Forum: July 19, 2017
7:00- 9:15 PM Now $7 at Door Open to the Public
Jeffco Fairgrounds Event Center 15200 W. 6th Ave. Golden, CO (SW Corner 6th Ave & Indiana St.)
PRF Founder & Host
Rick Nelson
303 919-6532