Colorado's Most Mysterious, Sacred & Magical Places
PRF Presentation 6-17-15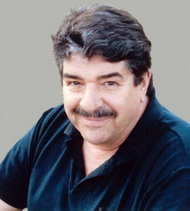 Bob Bicksler
Researcher l Experiencer l Investigator
of Paranormal Events & Reports
Colorado has a deep history of locations filled with reports of mysterious and supernatural experiences.  Folklore, legends, rumors, supported by multiple witnesses and personal experiences strongly suggest or document many highly unusual realities are taking place all around us in our State.  The June 17 Forum will cover Colorado locations, towns and areas rife with documented events, reports and stories of shocking happenings most Coloradoans never hear about.  The information presented will be an outstanding resource for planning your future personal travels around the State to have your own experiences.  This will be an evening you will never forget.  Don't forget to make notes!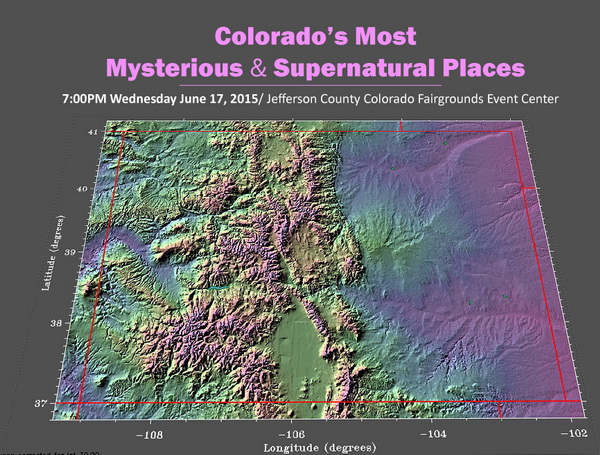 A couple of months ago the PRF had an Open Forum which ended up receiving outstanding reviews.  To that end we are encouraging everyone to bring your knowledge of unusual locations and happenings to share with everyone.  Attendees at the Forum are a highly unique crowd including experiencers, r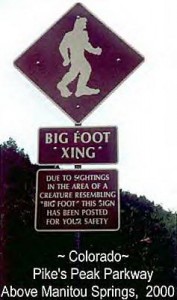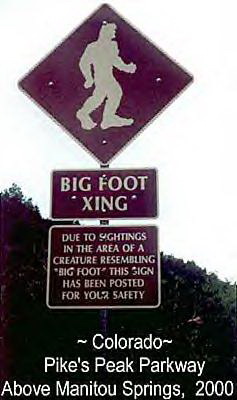 esearchers, authors, investigators and others making note of amazing events the mainstream makes little, if any, note of likely because it doesn't generate money for someone.
These activities represent access and doors to other worlds and realities beyond human understanding.  Our presenter Bob Bicksler will share his knowledge of many of these activities including some he has personally experienced.  This will be an Open Forum and everyone is encouraged to share their knowledge of locations where these supernatural occurrences frequently take place.  Please feel free to ask questions too.  This will be a collective learning exercise.
It is likely the information presented at the meeting may be used to create Colorado's largest database of locations experiencing unusual and unexplainable events around the state.  Since the media has been covering so much of the "ghost" activity in recent years our focus will only cover a couple of the most historically active locations and devote our attention to lesser known activity.
Rick Nelson (pictured left) and Douglas Chambers (pictured right) are also investigators, researchers and experiencers dedicated to exploration of the unfamiliar and unknown that will be sharing some of their Colorado discoveries and experiences.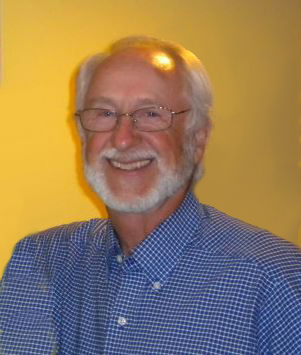 You'll be surprised to discover activity you've never heard of or more details about items you're vaguely familiar with right here in your own state.  Paranormal investigators, researchers and authors tend to specialize often unaware of other type phenomena often taking place in the same location.  Much of this little-known supernatural information will come together for the first time possibly revealing matters that have not been brought to the forefront before.  This gathering will hopefully inspire many of you to explore and investigate these locations for yourself.  Your personal discoveries here in Colorado are also a very integral part of this event.
We ask that individuals attending this Forum be kind enough to take a moment and share their insights so we can all benefit from a more comprehensive information base about supernatural activity in our Centennial State.  Hopefully we can collectively begin shedding light on the most amazing and significant secrets ever hidden in our own back yard.
  Some of the topic locations will be discussed include:
Statewide UFO activity

Bigfoot sighting report locations

Unusual towns

Underground tunnel systems

Cattle mutilations

Vortexes

Ley lines

Other unusual phenomena

Please come and share your own discoveries…Again, it will be an evening you'll never forget!
 ______________________________________

Paranormal Research Forum
"The World's Largest Monthly Gathering on Any Paranormal Matters"  
PRF Monthly Gathering, 3rd Wednesday every month except December
7:00- 9:15 PM
$5 at Door
Open to the Public Jeffco Fairgrounds Event Center
15200 W. 6th Ave. Golden, CO 80401 (Southwest Corner 6th Ave & Indiana St.)
~MAP~
~ founder ~
Rick Nelson 303 919-6532- cell