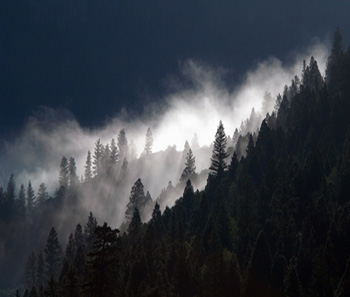 From UFOs, Bigfoot and vortexes, to ghosts and more Colorado is riddled with paranormal activity.  Numerous books, magazine and newspaper articles cover accounts recording reports of events and experiences that defy all logic and reason.
For those looking to discover more in life than is prepackaged and delivered to us in a oversimplified box Colorado is rich with history, folklore, reports and hard evidence documenting paranormal activity throughout the state.
The indigenous people previously occupying what is now Colorado have recorded in stone what Native Americans also reference in their oral history. This information dovetails with stories and recorded information over the past three centuries. Although stories and reports are scattered throughout the state the San Luis Valley in South Central Colorado stands out based on the sheer volume of recorded activity and current day reports of highly unusual and unexplainable events in most every imaginable arena.
In two reporting centers for UFO activity, little known to the public, Colorado has over 1,000 people that have taken the time to submit written reports in the past 7-9 years alone. As UFO reports increase around the world and our state more people are developing an interest in this fascinating subject.
A trip to the San Luis Valley may provide the best stage for experiencing these amazing supernatural and paranormal performances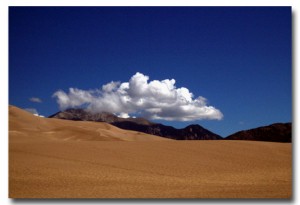 Historic and recent reports of a large humanoid creature described by many witnesses in unrelated events have been documented throughout the state. The most commonly used term for this creature is Bigfoot. More than a dozen Native American tribes have inhabited the San Luis Valley area and most have oral history of this large humanoid creature. Pike's Peak, Leadville, Eagle County and Platoro Colorado have had an unusually high number of reports. These concentrations continue to have reports to this day by new witnesses.
Colorado is typically one of the top ten states reporting Bigfoot activity.  Here are some maps detailing areas of highest Colorado Bigfoot reports submitted by county including breakdown of sightings by season.
COLORADO UFO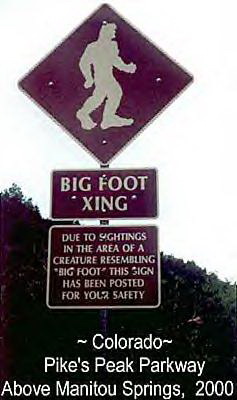 COLORADO GHOSTS
COLORADO BIGFOOT
Colorado Bigfoot Reports Detailed Colorado Bigfoot reports by county
Colorado Bigfoot Sightings Map Bigfoot Field Researchers Organization, BFRO
Denver TV Channel 7 News Bigfoot Report May 27, 2011, KRDO NewsChannel 13
Colorado Springs News Bigfoot Report May 24, 2011
Colorado Bigfoot Investigation 2010 Bailey, Colorado Bigfoot Investigation
Colorado Springs Bigfoot News Report 2008 Report covers DNA sample evidence supporting Bigfoot existence
COLORADO PARANORMAL BOOKS